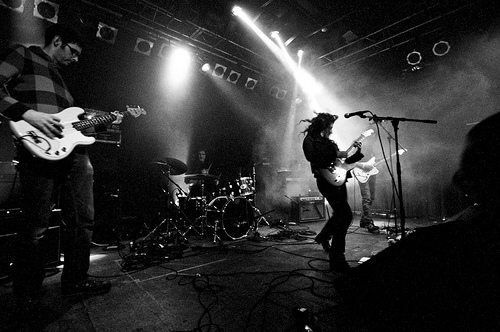 There's a whole lot of us who will be migrating south for Friday night's Pickwick show at the Doug Fir, but if you're in town this weekend, there's plenty going on that's worth going out for: namely, Lovesick Empire's opening spot at the Highline in Capitol Hill on Friday night. They're playing with SAYS and Black Nite Crash, and you shouldn't miss it. Period.
If you haven't seen or heard Lovesick Empire yet, you are truly missing out. Their self-titled EP tied for first place in 2010's best-ofs, and my first round of listens earlier that year yielded quite the enthusiastic word-salad:
To say that this brand-stinkin'-new release from local notables Alicia Amiri and Jason Lajeunesse is in heavy rotation would just about be the understatement of the year […] Lovesick Empire manages to give a nod to their roots while maintaining a sound that's completely their own — we can hear hat-tips to true [word-other-than-]grunge and "He War"-esque Cat Power, layered with a good helping of black eyeliner and a missle-lock stare. You can almost see the movie scene playing out in a deafeningly loud bar during "Something in my Blood," hear the radio hit two tracks later, and realize you've got the perfect addition to your next mix tape with "Can't Get Right." Big, filthy guitars will keep the post-punks happy; and just enough forlorn-ness in the lyrics will draw the indie rockers in.
There's really not much to add to that, with exception of (a) since then, they've only had time to improve, and (b) Lajeunesse and Amiri, along with full-time members Peter Kowalczyk and Andy King, recently did some time in the studio — you can hear a brand new track over at their Soundcloud here, and then immediately add their not-yet-released-release to the list of all the great things that are coming out of the talent pool in our fair city this year.
Two words? Good shit. Two more words? Get there.
{More info about the Highline here, Facebook event page here. Photo of Lovesick Empire by Victoria VanBruinisse.}