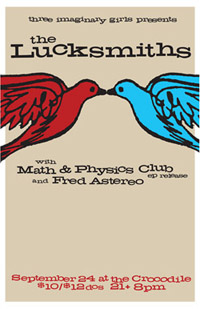 We've been counting down to tonight's big show at the Croc for months! The Lucksmiths are in town and are ready to overwhelm us with dreamy indie-pop and songs to hold hands to.
Join us at the Crocodile tonight for the big fun of one of the best indie-pop bills we've seen in a long time:
The Lucksmiths
Math & Physics Club
Fred Astereo 
Reasons to join us there:
The Lucksmiths are only touring for two weeks and a handful of shows… so we're really lucky to have them stop here for two appearances (they'll be at Sonic Boom before the Croc show for an all-ages set).
The quartet is touring in support of their brand-spanking-new double-CD release Spring a Leak. It's a compilation of non-album Lucksmiths tunes from the past decade, gathering 7" tracks, b-sides, compilation songs, live tracks, unreleased rarities, and cover versions — 45 songs in all!!! 
Add to that the fact that our twee superhero friends Math and Physics Club will be celebrating the release of their new EP,  Baby I'm Yours and that the Lucksmiths are bringing their friend Fred Astereo from Melbourne, Australia with them — it's going to be a night of delectable pop and warm fuzzies.
Speaking of warm fuzzies:
(Thanks to Seattle Show Posters for the saweeeet poster. We'll have some on sale at the show if you'd like one for your wall. Their screenprinted on heavy duty paper/board and quite swanky. If you'd like one for yourself, ask any imaginary girl or band member to buy one.)