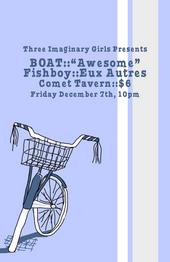 Tonight is another agonizing night in Seattle where it's hard to know where to turn for the best show/event around, there's just so much going on! If I might make a few suggestions…
First off, of course, is the TIG presents show at the Comet. I don't want to brag, but this lineup kicks effing ass, as does the poster (THANK YOU, Imaginary Kiku!!) The show kicks off around 10p and features BOAT, Awesome, Fishboy, and Eux Autres.
If that's not enough, my new favorite band in the world — Scotland Yard Gospel Choir — plays at the High Dive, with local catchy drama-pop band Curtains for You. SYGC sound like a zillion bands I adore and incorporate horns and strings into their jangly fey indie-pop, along with charming (albeit sometimes heavily realistic and depressing) lyrics. I'm not sure I would have picked the High Dive for this show, as I fear some of the subtleties of the band's songs will be lost in the hard-sounding acoustics of that room, but still. They're from Chicago, so we gotta take what we can get.
And lastly, if you're more in the mood to get your silly Vaudeville on than attending an indie-pop show, head on over to the Rendevous. It's our pal Mme. Melissa Cerise's "Dirty Thirty" Vaudeville Birthday Jamboree, featuring musical performances by TV Coahran and Bat Country along with bellydancing, aerial performance, burlesque, and a drunk puppet show by Miss Holly Chernobyl! Will the puppets be drunk, or will Holly? Or both? Either way… really, sounds like you can't lose.
Have a great start to your weekends!