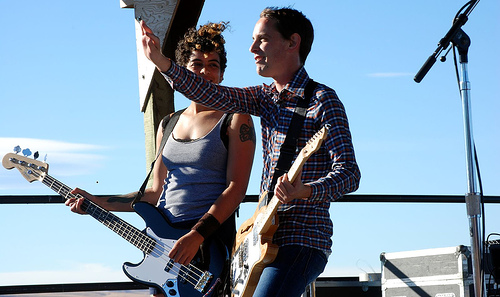 Hutch Harris and Kathy Foster — founding members of the Thermals — once upon a time played as just Hutch and Kathy, a lo-fi duo with music that continues to make igLiz's heart pitter patter to this very day. According to today's Pfork, the twosome hasn't played together as Hutch and Kathy for six years…. until now!
The twosome just announced that they will play a very special show as Hutch and Kathy on April 18th, as a fundraiser for KPSU radio, and it will include new songs (!!!!!).
From the article:
Come April 18, Hutch and Kathy will reconvene under their given first names for a performance at Portland State University venue the Modern Age, along with fellow PDXers Strength, Reporter, the Vonneguts, and Typhoon. The gig is a benefit for Portland State's KPSU radio, and will be preceded on April 14 by an in-studio performance from the duo on the KPSU airwaves.

Hutch himself claims that they'll be performing all new songs, some of which may end up on the next Thermals record. Ooh ooh, which, Hutch? "We're not sure exactly what they are." Ah. Guess we'll find out next month.
I can already see Liz checking her oil and tire air pressure for the three-hour jaunt south…