Simple electronic beats washed in and out as Jenny Hval's unassuming set began. Set back behind laptops, and a giant inflatable clamshell complete with a beachball pearl, the trio of musicians had created a visual wall between themselves and the audience. A spell casting saxophone sample gained prominence as "Female Vampire" cut into the room and Hval's voice became ethereal, encompassing the space with soft reverberating vocals on a delay. She had absolutely captured the audience's attention though she'd barely inched towards the front of the stage. When she did, she stuffed the beach ball into her shirt, and joined her clearly pregnant bandmate for some stretches as the songs transitioned. "There," she smirked, "now we match!"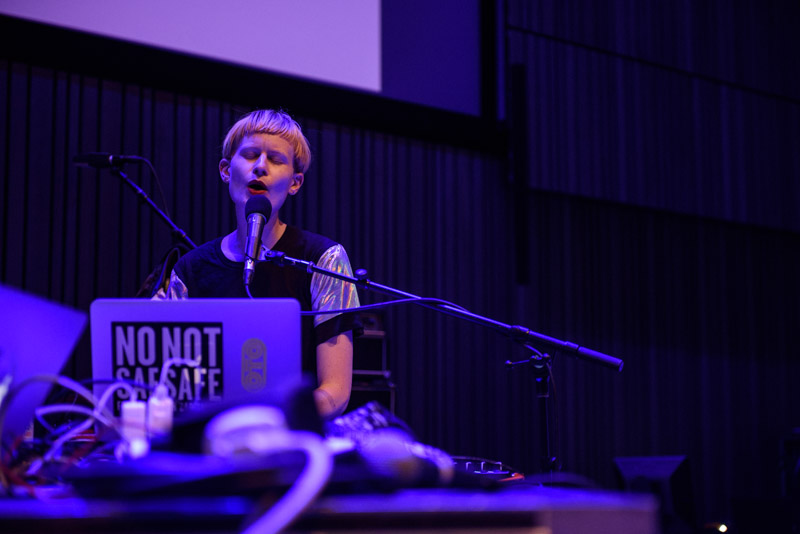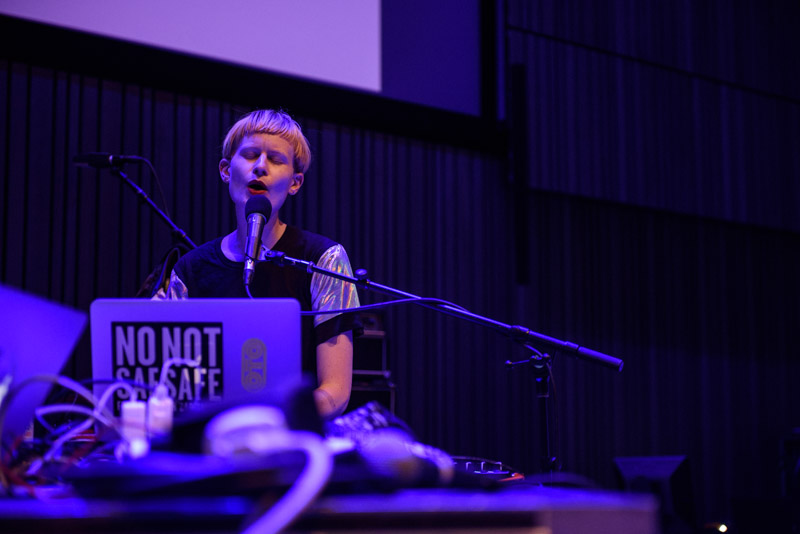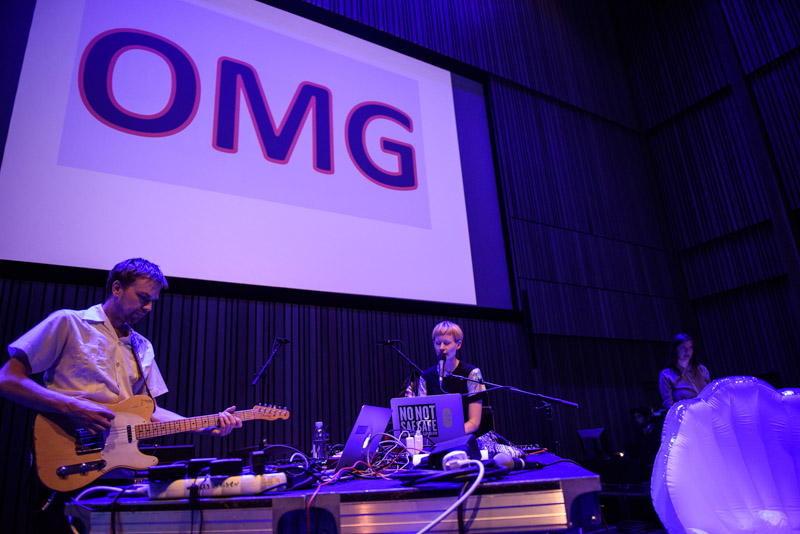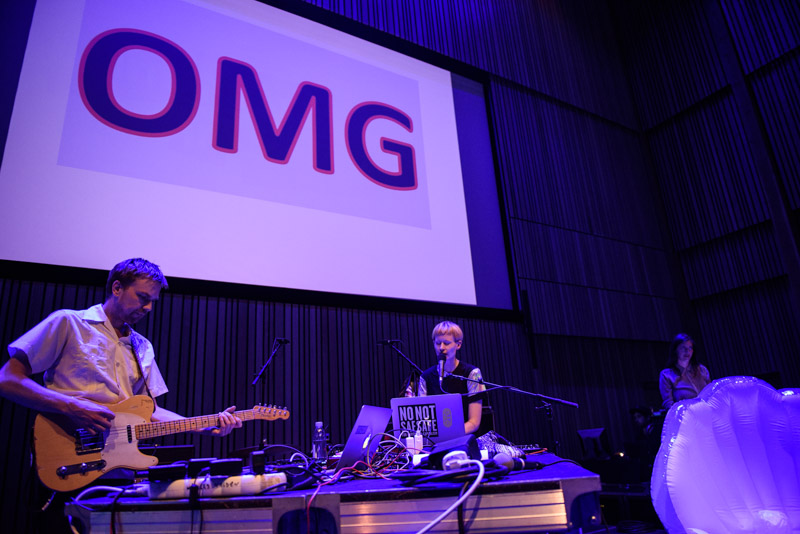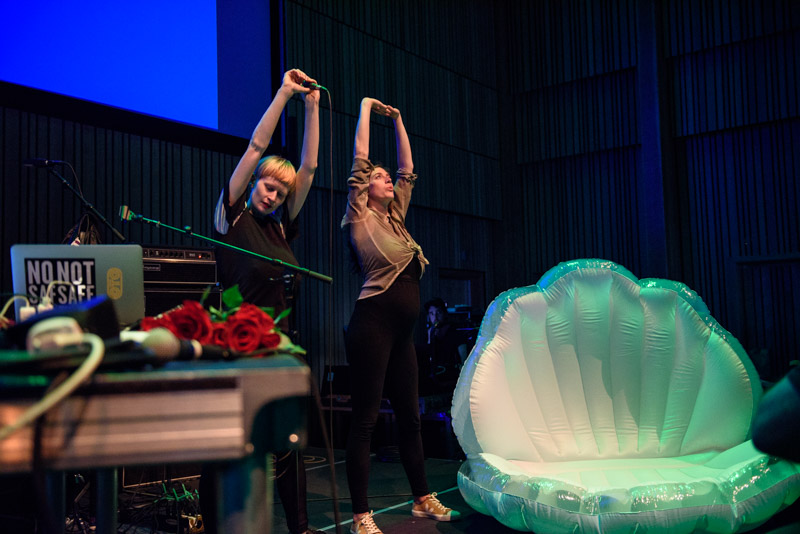 Her set was fascinating, nearly verging on performance art, but not in a pretentious way. The clamshell became alive at one point, wrapping Hval in a smooth cocoon while her voice became nearly weightless. All three musicians moved to join forces at one microphone, holding each of their cellphones full of celestial looping feedback to the microphone at different angles. As one moved closer, another moved farther away, creating a spontaneous and gorgeous electronic layer of bliss. Each of them slowly died out one by one.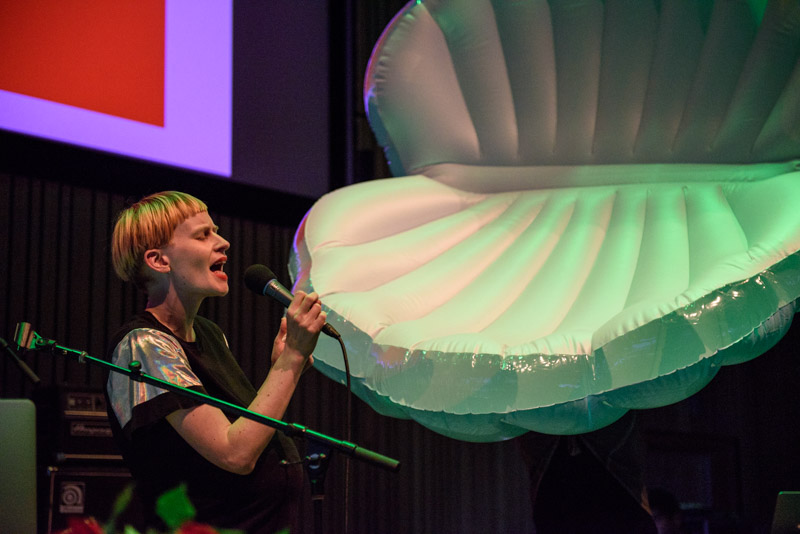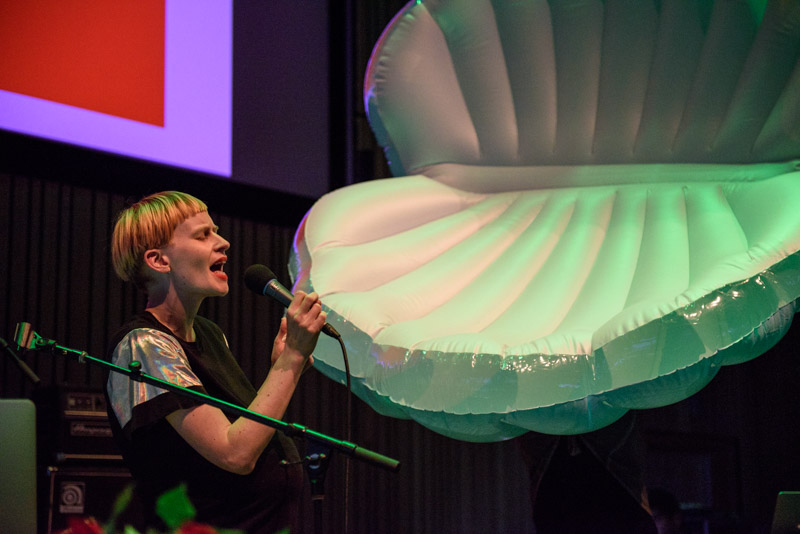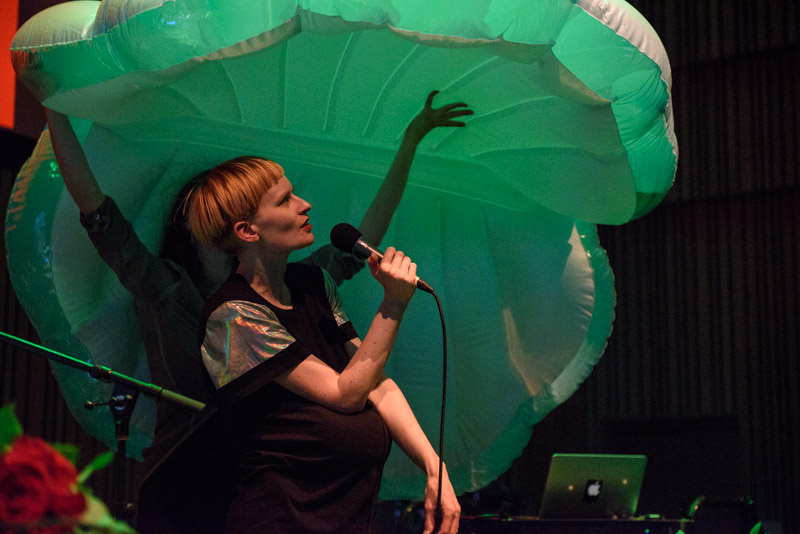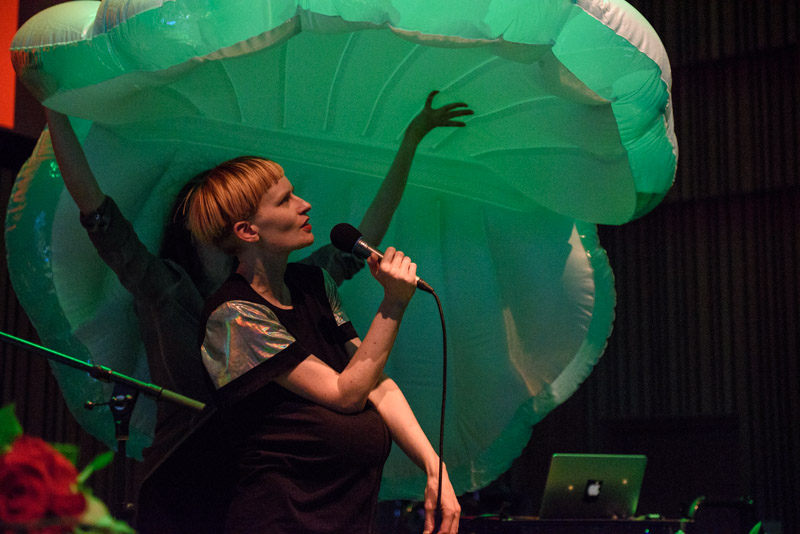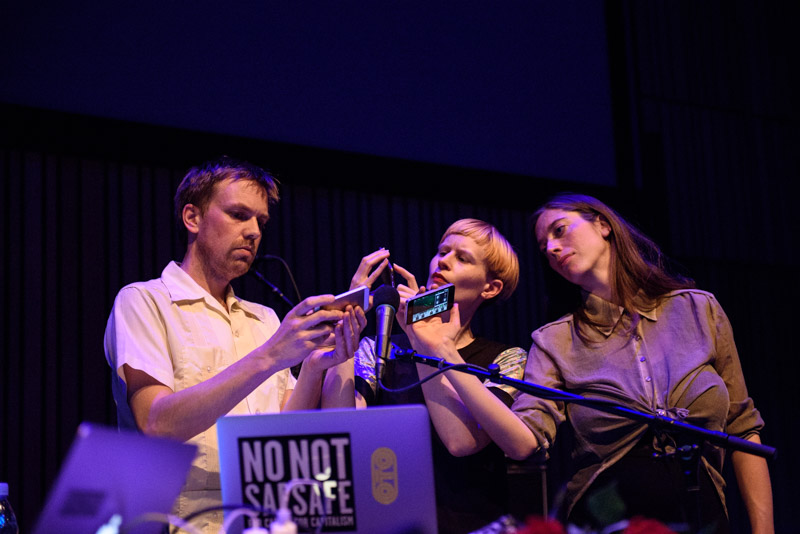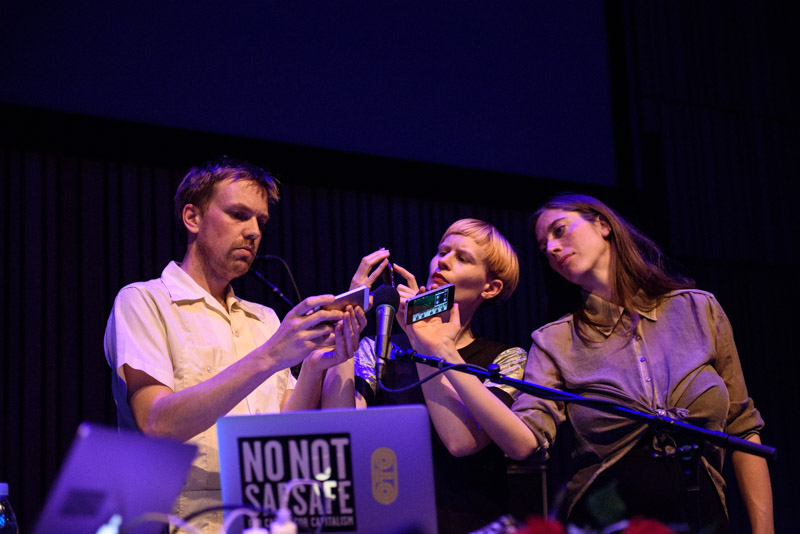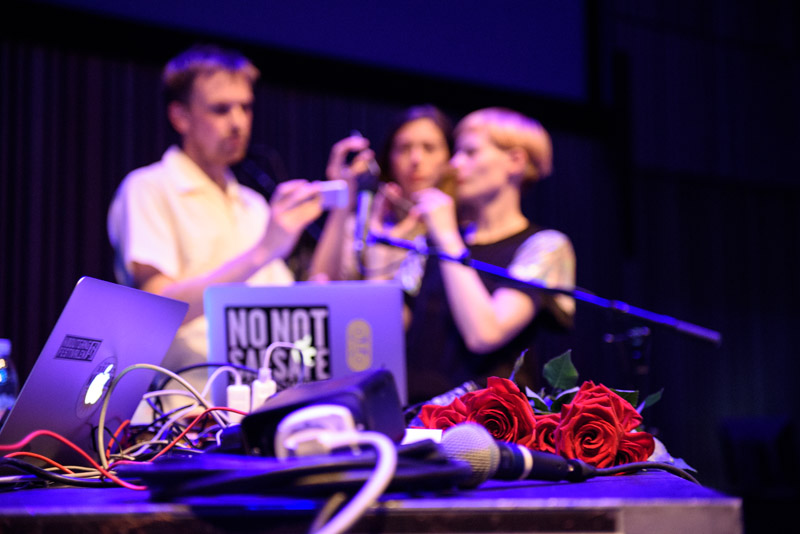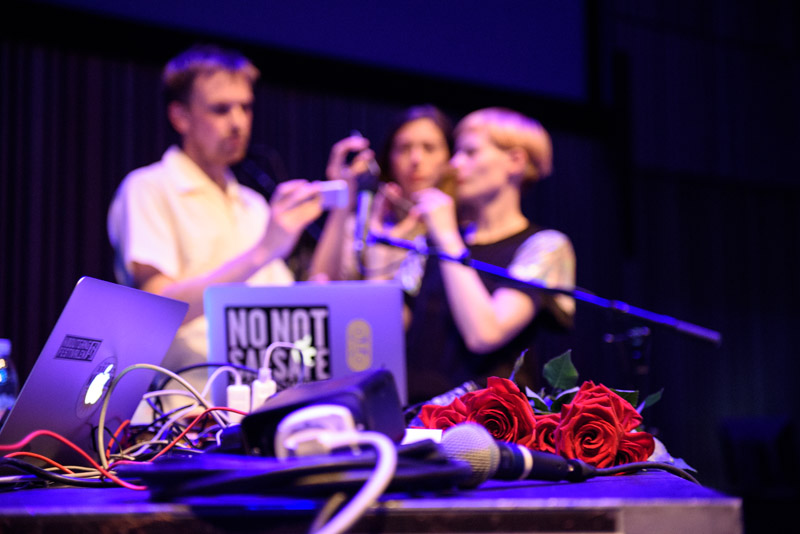 She moved on to a song about the letters in the Norwegian alphabet, singing along to scrolling lyrics on the projector, teaching her transfixed "class" about the idiosyncrasies of her language. It was truly fitting for the Nordic Museum opening. A new song struck up about the word "chill," featuring a prerecorded voice announcing types of "chill" music such as "Chill Out, Chill Indie, Summer Chill, Best Chill Hop" etc. The word became idiotic, as are many of the playlists listed that way on the internet. After hearing it on repeat it became something else. Something without meaning. Not even a word. As her bandmate sprinkled the viewers with rose petals, we were left feeling loved in this lonely and at times meaningless world.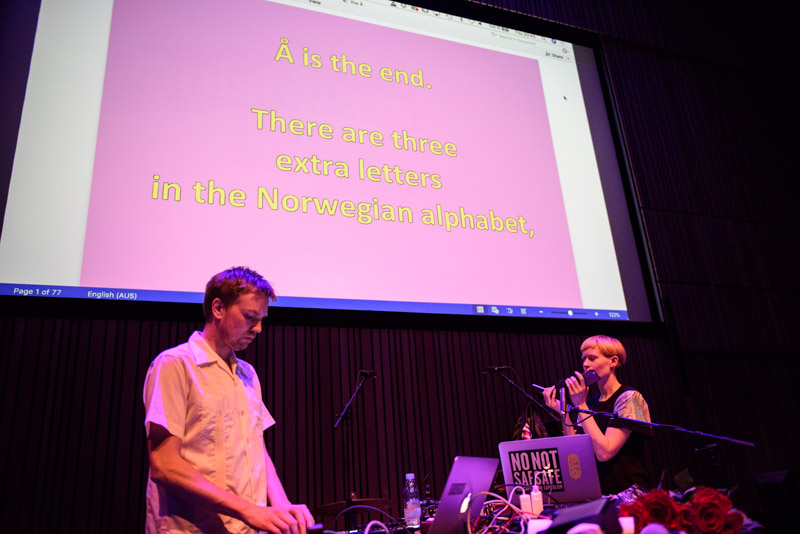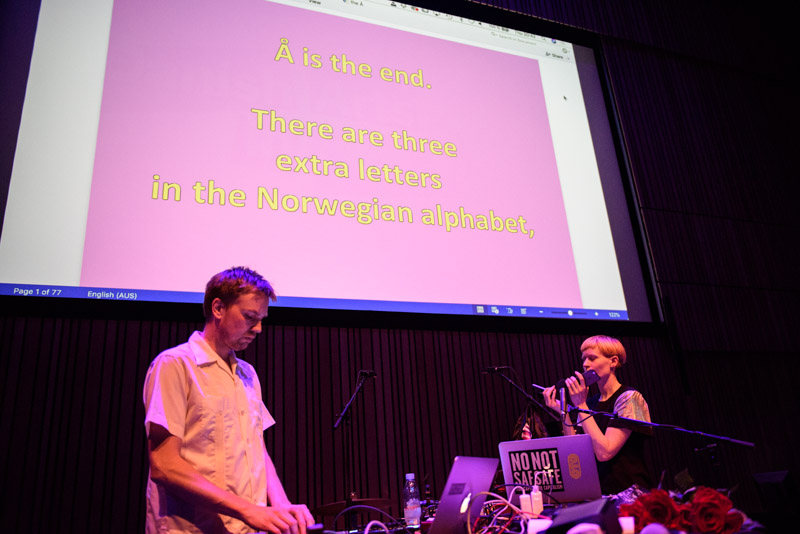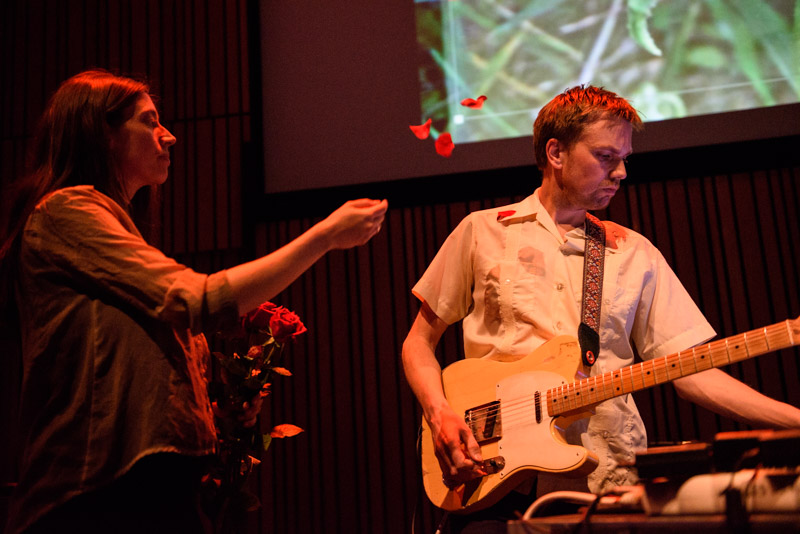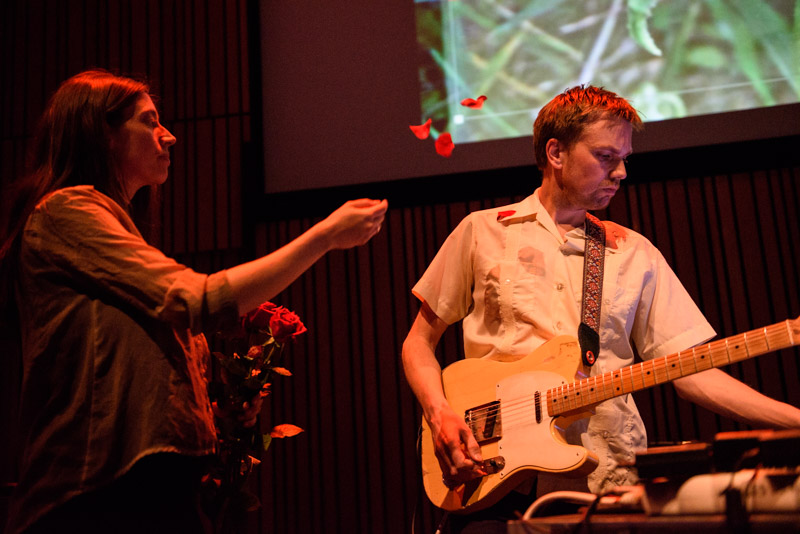 Danish rockers Iceage took the stage in true rock n roll form. Waiting for the very last second, lead singer Elias Bender Rønnenfelt took the stage with a bottle of wine, taking a final swig with a carefree Jagger-esk attitude.  From the moment they started, jarringly visceral guitar chords clanged into every inch of me. Yes, I was standing directly in front of the guitarist without any earplugs like an idiot but I haven't heard such powerfully raw guitar work in ages. Iceage was giving me LIFE!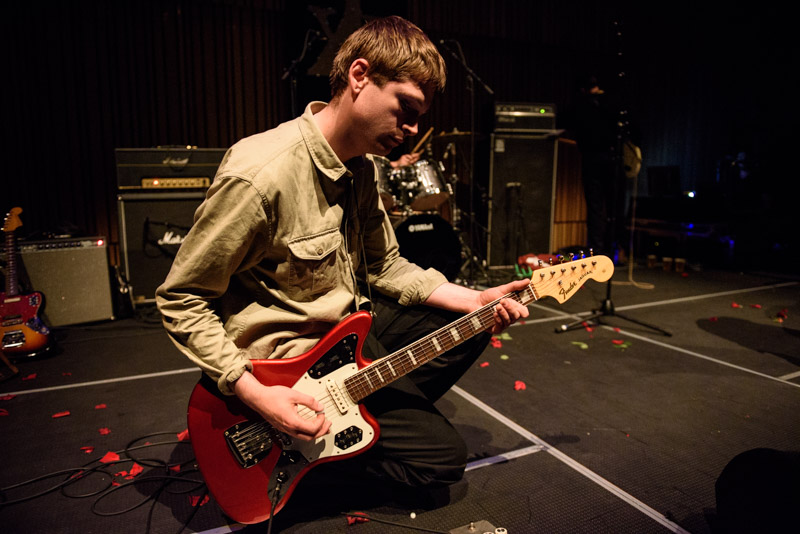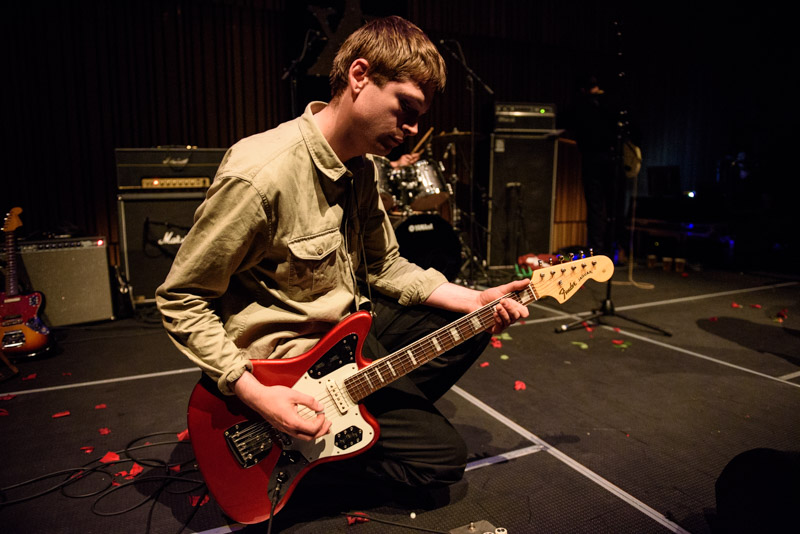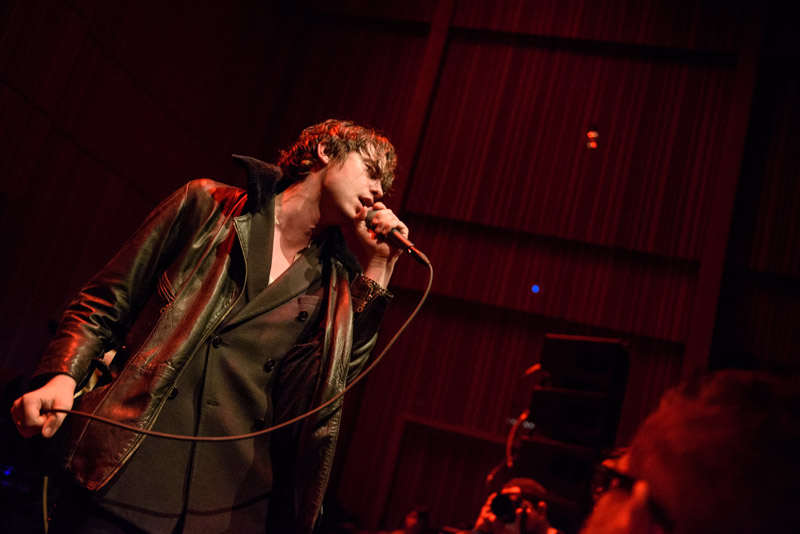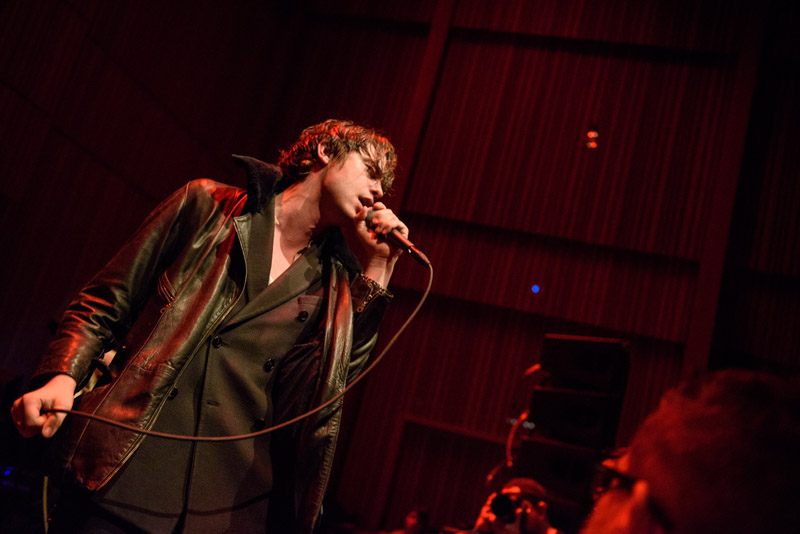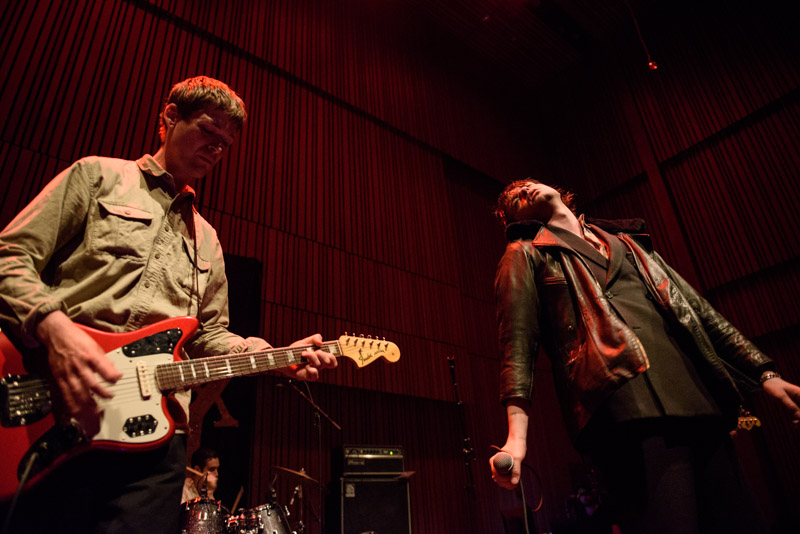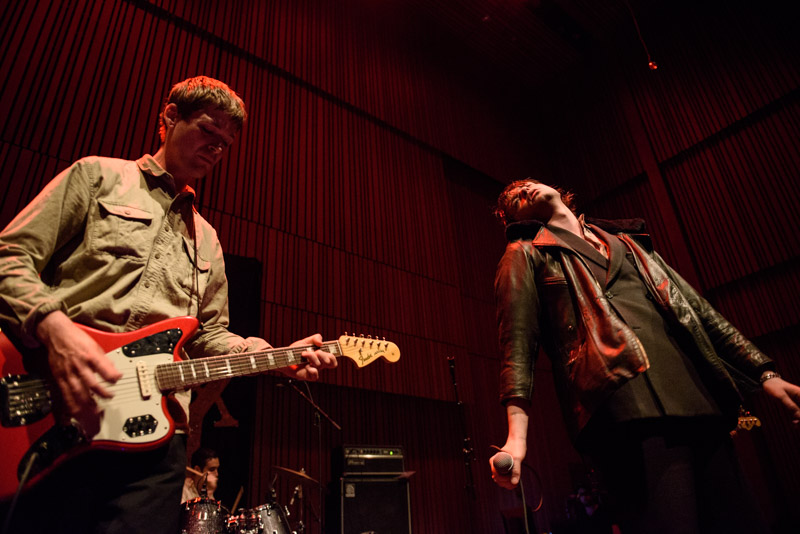 Playing a pack of tracks off new album Beyondless, released just a week prior, they sounded freshly aged, like time travelers from a different era. Finger picking "Thieves Like Us," turned from a southern bayou soaked rock song into a burly bar brawl that'd make any punk proud. The audience was relatively tame with surprisingly little shoving among the ruckus, so Rønnenfelt decided somebody had to do it and chucked his body into the crowd. He came back to the stage quickly and began swinging the microphone around, nearly missing several noggins in the process.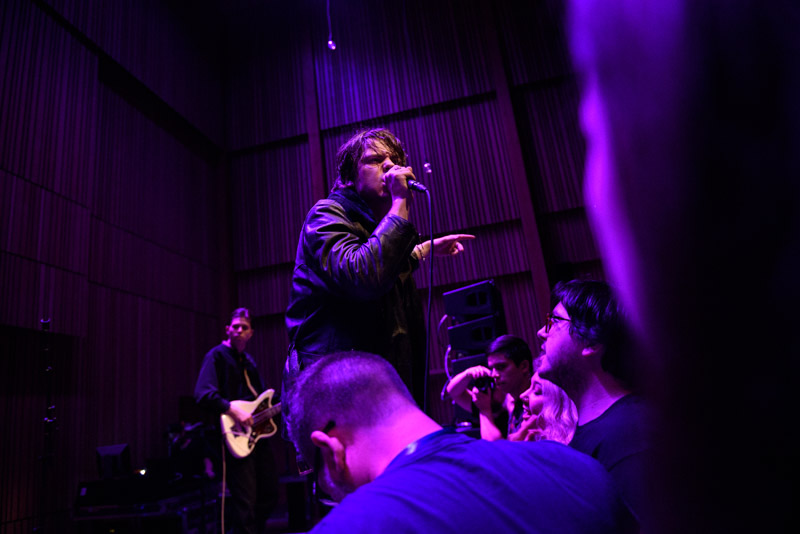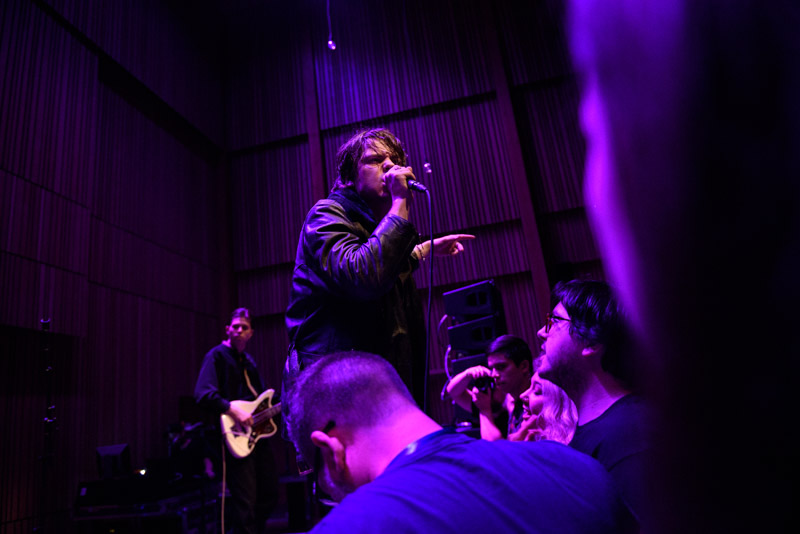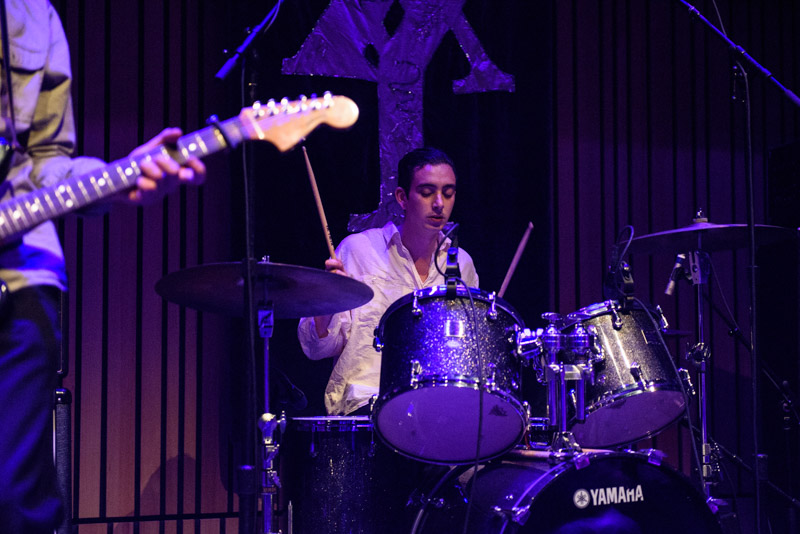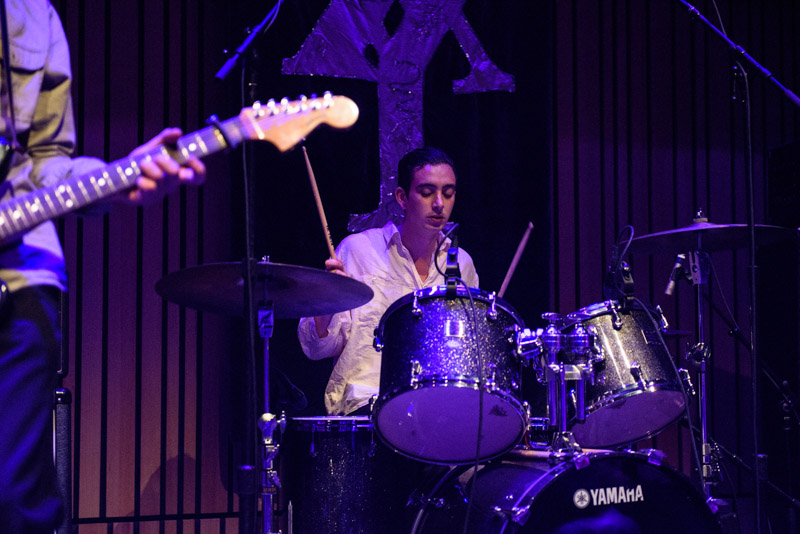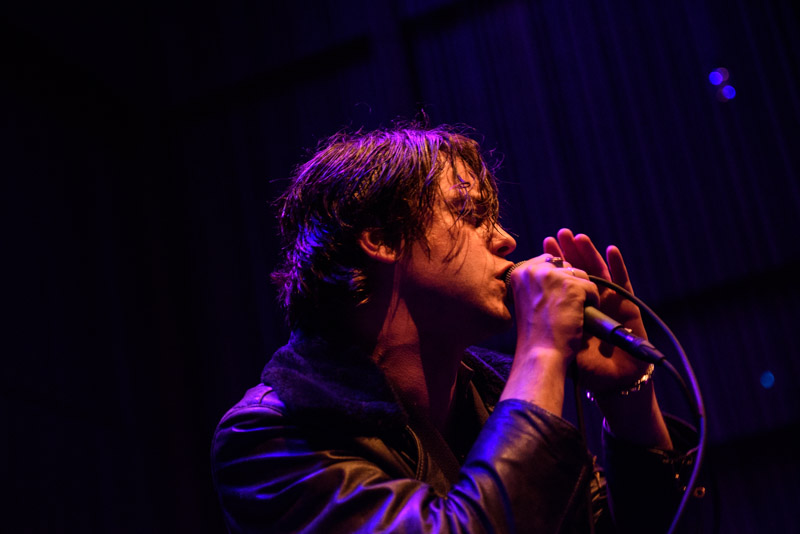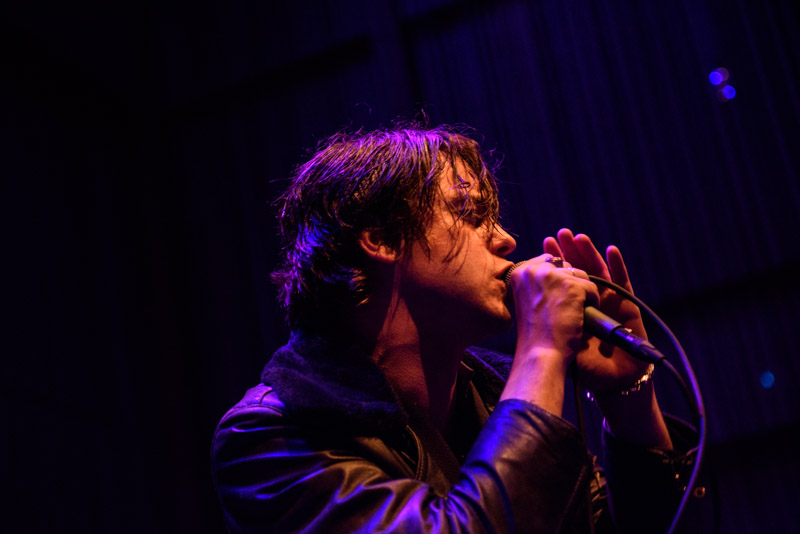 New song "Take It All," had an early Joy Division groove to a constant drum rolling march, while older track "Ecstasy" had a similar raw tenacity but its time changes felt sloppy compared to this newly elegant version of Iceage. However by this point I'd moved farther back into the room to save my ears and the sound felt overly muddled. Maybe Iceage is a band best enjoyed from the front? You'll want to feel it electrifying your bones.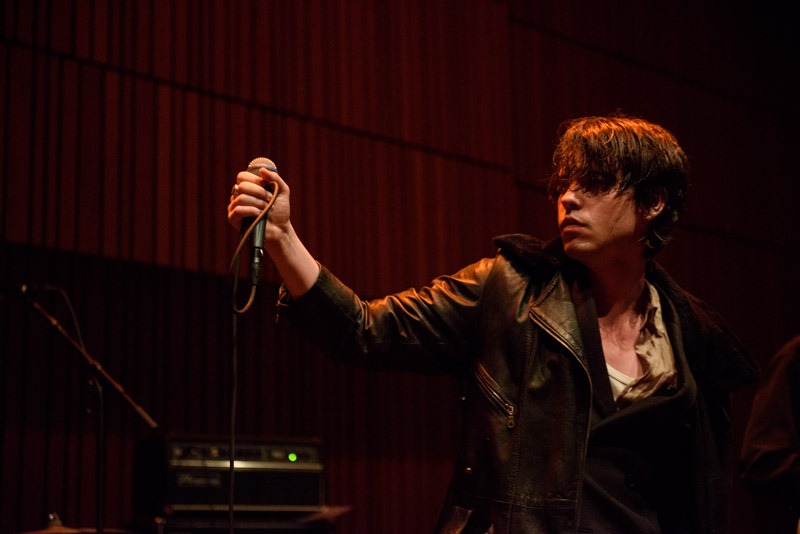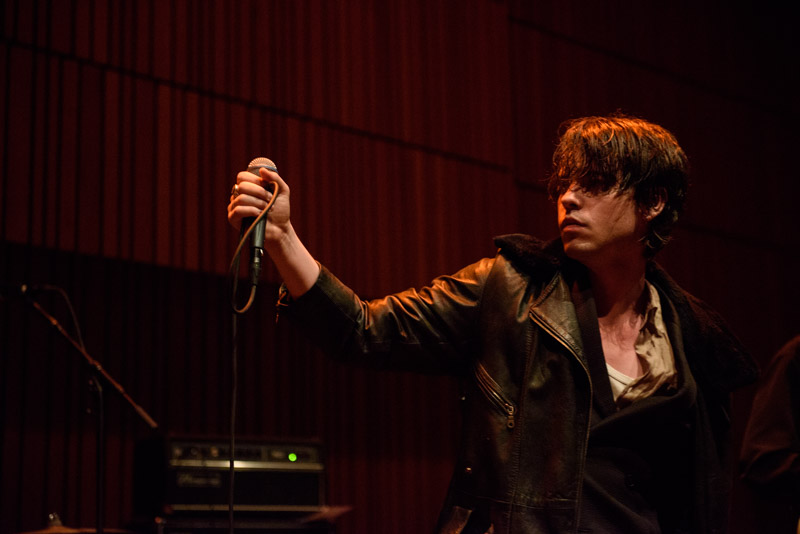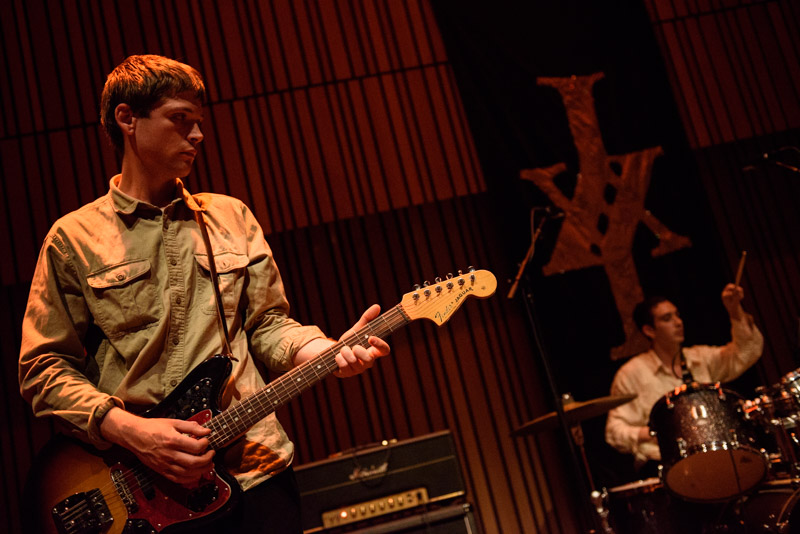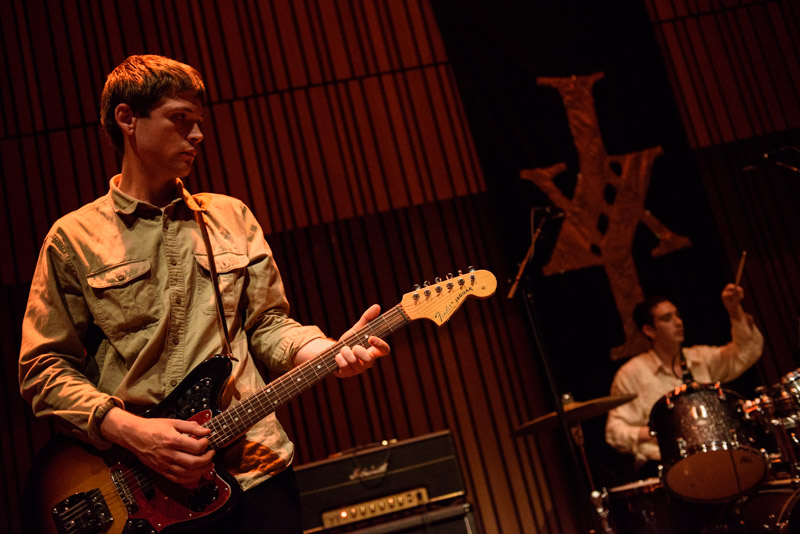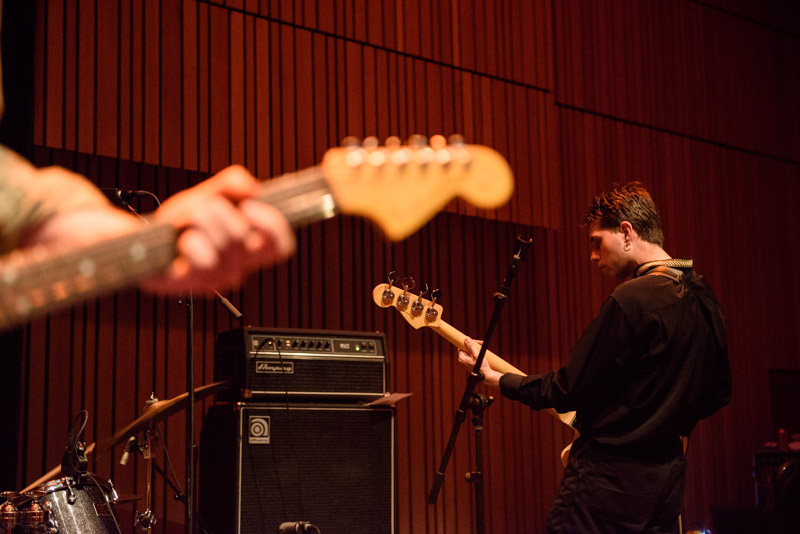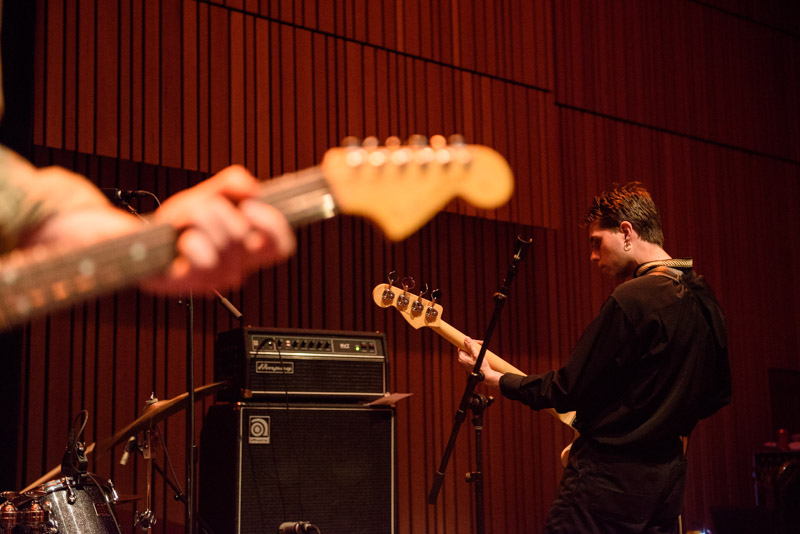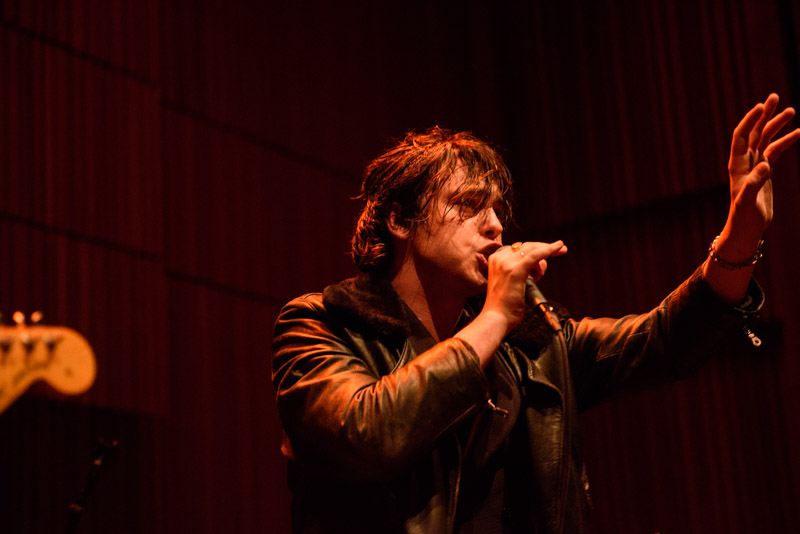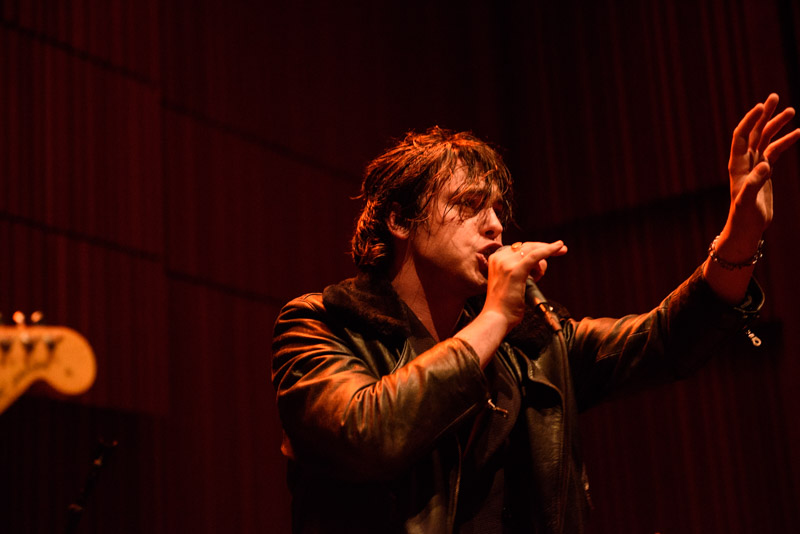 The new record is full of solidly ripping post-punk, and you have to catch them live!  If you missed this set they'll be back in just a few weeks at Chop Suey on June 13th. YOU DO NOT WANT TO MISS IT.
Photos by Brady Harvey