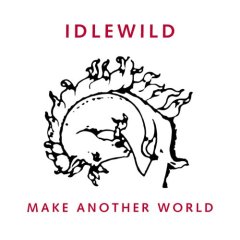 I hearby proclaim today Imaginary Idlewild Day for today the US release of their latest record, Make Another World, is at long last available! HUZZAH!!!!!!!!!!!!!!!!!!!!!!
igLiz and I have been long-time fans of the Scottish band, Liz even going so far as traveling to the T in the Park music festival a few years back to see them play in their native land.
You can buy the record on Amazon, but I can't wait that long — so I'm heading to Sonic Boom RIGHT NOW to go buy it. Updates coming soon on a track-by-track basis…
What other new releases are you all excited about today? Jarvis Cocker? Fountains of Wayne? What's good, what's not-so-good…?