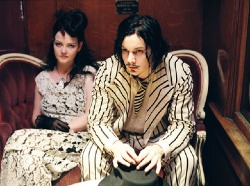 How neat is it that Meg White not only married in the surely beautiful Nashville southern belle of a home of Jack White (bandmate, ex-husband) but she's hitched herself to Jackson Smith (son of Fred and Patti Smith) in a double wedding ceremony.
The other couple hitched in the ceremony: Jack Lawrence, the bass player in the Raconteurs and the Dead Weather, and his girlfriend Jo McCaughey. 
It's been a while since I've heard of a double wedding ceremony, but good for them combining resources and making things easy on the out of town guests. Didn't Marcia and Jan Brady have a double ceremony? Or was it someone on the Love Boat?
Did anyone catch a Mega Prego Meg on one of the goodbye NYC Conan shows a while back? I can't find it on YouTube anywhere… but needless to say she was exceedingly cute. I know that some of you are unable to fully love her because of her drumming "style" — but I am all about the Meg and wish her tons of love and happiness with her new Jack.