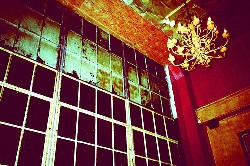 Even though we're in the midst of a celebratory time of year, the shock of the sudden closing of the legendary Crocodile Cafe is still with us.
To help the stellar group employed there who found themselves suddenly without income, Chop Suey and Three Imaginary Girls have assembled a benefit show for those fine Ex-Croc folks this Sunday, December 30 at Chop Suey.
Join us this Sunday for an evening of fine songs from some of Seattle's rock star royalty, share your Croc story, and get a chance to say goodbye…
Unscrew the Crocodile Employees Benefit Show
with members of Fleet Foxes, Peter Parker, Siberian, Pale Pacific, J.Tillman, Damien Jurado, Pleasureboaters, Dave Bazan, Triumph Of Lethargy, Dave Terry (of Aqueduct), Sonny Votolato and many more!

$10 adv | 7pm doors | 21+
* Auction/raffle prizes too! Show your support!
Buy your ticket now
If you're not able to make it to the show but still want to donate, organizers suggest you buy a ticket (or two) to the show as all proceeds will benefit the cause.
(Thanks for the photo Fnarf!)