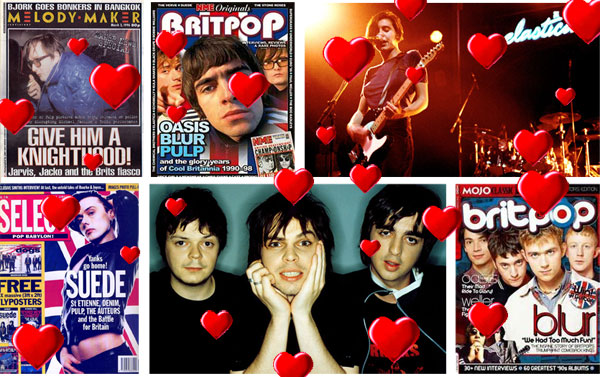 Britpop runs in my veins. For the anglophile music geeks amongst us, there is no greater way to electrify the room than to say words like Pulp, Supergrass, Lush, Suede, Elastica, James, Ride, Charlatans, Ash, Blur … oh yeah, and Oasis.
Finally there is way for us to celebrate our love of the parklife. Mark your calendars for:
The Good Mixer: a britpop dance party
Thursday, April 17, 2014 at the Lo-Fi | 21+ | $8
The evening marks the 20 year anniversary of two very important britpop albums: Blur's Parklife + Pulp's His-n-Hers with a dance party hosted by Marco Collins with DJ sets by Erik Blood, DJ Shannon (KEXP), Kurt Bloch and more!
Also of very important note, there will be BRITPOP KARAOKE! I feel like I've waited my whole life for this. Finally, we can have a sing along to Lush's "Ladykillers" and do our best Jarvis impression as we sing, "I said I'll see what I can do." Imaginary Dana and I will be hosting this karaoke portion and we are ready to cheer on all your Stone Roses / La's / Adorable / Happy Mondays dreams. (I know we have a lot of them!)
Speaking of sweet Jarvis, there's going to be a Jarvis Cocker dance-off (judged by Imaginary Amie, Imaginary Dana, and myself). And if you don't feel like dancing, there will be giveaways for the most surly Oasis unibrows and you can power up with fish-n-chips from Nosh Food Truck or one of the themed drinks: "Common Peeber" (PBR + shot of whiskey), "Beetlerum" (rum + coca-cola)… AND there will also be a photo booth complete with 90's gear (accessories provided by Red Light Vintage)!
Basically, it's going to be the best Britpop dance party this side of Glastonbury… and doors are at 8pm.
In the meantime, you can take a quiz or three (although, you probably already have):