I could hang out in just about any record store for hours, eavesdropping on everyone else's conversations and chatting with the person behind the counter about music. Even when I worked at my local college town record store in the 90s, I felt like I just got paid to talk to people about my favorite bands and strike up conversations with people trying to identify that song they heard on the radio (oh, and constantly restock Dave Matthews, Nirvana, and Tori Amos cds).
And I'm pretty sure you all feel the exact same way (doesn't everyone?). I'm pretty sure I've crossed paths with you at a record store and we both have the same goofy grin, ecstatic to be surrounded by racks of undiscovered treasure.
It's been a long time since we've been able to flash our grins in a record shop and glean valuable intel from our favorite record store clerks.
Thank goodness there's a new podcast to fill this void and our hearts with primo stories.
In short, it's "a podcast about record shops and the people who love them."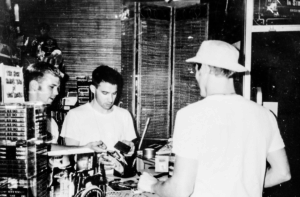 In the first episode (which just went live)…
Rachel, Matt, and Pete share the real story about the time "the Beastie Boys raided the Easy Street Records basement vinyl vault" while on the Hello Nasty tour."
Also, sweet angel of the radio, Kevin Cole, shares his thoughts the 33 1/3 book about Prince's Sign 'O the Times by debonair music critic, Michaelangelo Matos. I am so into this kinda book club. PS – Michaelangelo has a new book! Can't Slow Down: How 1984 Became Pop's Blockbuster Year
And beyond just being a great premise, the podcast is put together by three folks who have cornered the (record store) market on great stories:
Rachel Flotard is a co-host of the podcast as well as being an artist manager, writer, musician, producer, and mother of three. We also love Rachel for giving the world Visqueen and for TIG's defunct "Love is Hard with Rachel Flotard" advice column.
Matt Vaughan is a co-host of the podcast as well as being Mr. Easy Street Records. All of Seattle is in awe of (and extremely grateful for) his record store. It's a place for music fans to flock for the latest releases and to special order that sparkly colored vinyl version of that new Brazillian indie-pop band.
Peter Hilgendorf is the podcast's producer/designer/magician. His unbridled enthusiasm for music has put him in a lot of wacky situations that have resulted in some of the best stories. Among the 5,000+ reasons why Pete is the best, he recently helped transform Kevin Cole's bathroom into a place I really want to hang out (photo proof!!!).
The podcast is just getting started. They've promised "the greatest hits and best of tales from record store owners, employees, and customers." We can't wait to hear their hilarious, rad, and insane insider stories. SUBSCRIBE!!!
[button link="https://www.buzzsprout.com/1171703/6016453-beastie-boys-at-easy-street-records" size="xl" style="tick" color="orange" window="yes"]Listen to Record Stories![/button]