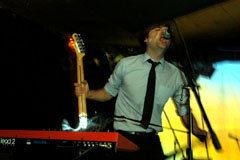 Liz and I aren't at SP20 so we have time speculate and we've got a good working theory that there's a magical secret headliner tonight and it's going to be the Postal Service.
The facts:
Wolf Parade ends at 9p so there's no band scheduled in the 9-10p timeslot. Wolf Parade, while grand, are probably not the epic ending the a 20-year anniversary festival deserves.
Death Cab has no date on their website for tonight.
Postal Service's Give Up was Sub Pop's best selling album since Nirvana's Bleach.
Jimmy Tamberello's relative (brother?) is at the festival, photographing and goods.
Ben Gibbard is likely playing this show in order to get out of any contractual obligation to record a second Postal Service record (wlld-ass speculation).
That's our theory and we're sticking to it.
What's your theory?