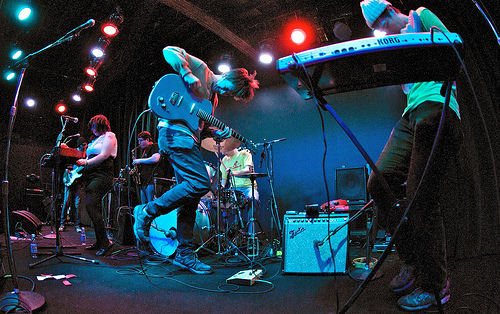 Huge thanks to everyone who came out to the Crocodile on Saturday night!
It was wonderful to have all of our favorite folks in one place at the same time. Did you get a tasty (and commemorative) Top Pot doughnut and a Vain updo? Most of all, we hope you had as much fun welcoming the Crocodile back as we did.
If you've got any pictures you want to share, add them to the Three Imaginary Girls Sparkly Indie-Pop Photo Pool group on Flickr. We'll be gathering all the photos in the coming days and putting together a photo album of the night on the site and we'd love to have your shots!
Also, tell us what you thought of the new place, the bands, the everything.
Was your beer really cold too?
As Steve Louie's photos of opening band iji (above) and BOAT (below) suggest, the bands really brought it. (BTW, nice Crocodile shirt D. Crane!)