HAND UP if you're ready for an insanely fun weekend of music! This Friday & Saturday, two of my favorite annual shows are happening.
FRIDAY, FEBRUARY 9
First up, let's talk Sound Off!, MoPOP (formerly EMP)'s inspiring Battle of the Bands for musicians 21 & under. I worked at MoPOP for 4 years, and every. single. year. I was BLOWN AWAY by the talent I saw come through this competition — and it killed me not to be able to write about it! But now that I'm no longer there, friends, I am free to tell you all about my fave new bands.
This year's competition kicks off on Friday with Semifinals #1, in which four talented young bands will play sets, industry judges will watch 'em, and then a winner & runner-up will be selected. The winner of this show (and the following two semifinals shows) will move on to the Finals March 3 and the runner-up will go into a "Wild Card" pool, then MoPOP's Youth Advisory Board will choose the 4th band to play Finals from the Wild Card picks!
Friday's show features Portland band Dreadlight, aka two kick-ass women who play alt-rock that I am TOTALLY rooting for; angel-voiced Maiah Wynne and her pretty-pretty indie-folk tunes; Seattle's psych-pop youngsters Strawberry Mountain, and Jawzilla's hip-hop jams.
Also, ALSO: this year MoPOP put together some pretty adorbs videos of each band. I'ma post Dreadlight's direct here — but check out the others on the YouTubes.
Sound Off! Semifinals #1 | Friday, February 9 |  MoPOP (Museum of Pop Culture) Sky Church | Doors 7pm; Music 8pm | All Ages | $14 (regular), $10 (youth ages 5-17), $9 (MoPOP members) | Grab tix here 
---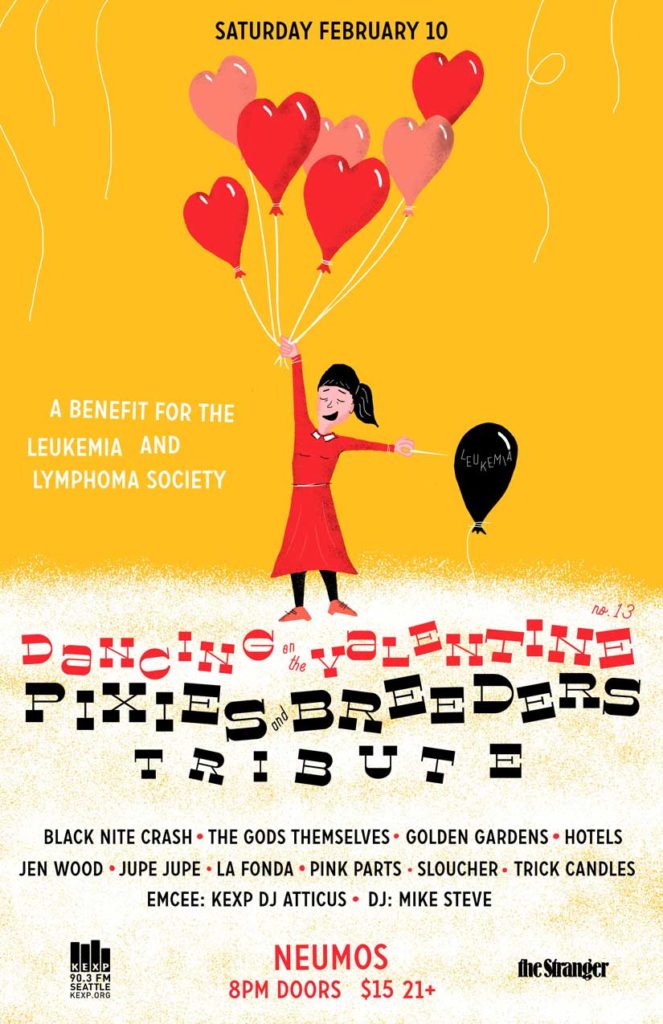 SATURDAY, FEBRUARY 10
The fabulous Jenny George's annual fundraising event, Dancing on the Valentine, turns THIRTEEN this year, so of course the theme for this beloved cover night is "No. 13 Baby" — a tribute to the Pixies and The Breeders!!!!
DoTV's 2018 line-up includes Black Nite Crash, The Gods Themselves, Golden Gardens, Hotels, Jen Wood, Jupe Jupe, LaFonda, Pink Parts, Sloucher, and Trick Candles covering ALL THE SONGS, with KEXP DJ Atticus (and Jenny's son!) emceeing the event, and DJ Mike Steve spinning tunes between sets. Neumos is gonna be LIT, and your money is going to an amazing cause: the Leukemia and Lymphoma Society. 
Also, of course: Ben Haley will be there to man one of the most coveted photo-ops in town, and the DoTV raffle might net you some serious swag.
Dancing on the Valentine No. 13 Baby: Pixies & Breeders Tribute | Saturday, February 10 | Neumos | 8pm | 21+ | $15 | Grab tix here