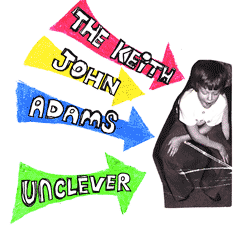 As reported a couple months ago, songsmith Keith John Adams took on the massive task of writing a batch of songs personalized to the first 40 people who ordered his new album Unclever (releasing on February 12, 2008 on Happy Happy Birthday To Me Records – imaginary review coming soon).
More than that, Keith John Adams was kind enough to include Three Imaginary Girls in the list of theme song recipients!
In early December he asked us for a list of things we like and some stuff about the site. Of course, one of the things we listed on the "We Adore" list was the Crocodile Cafe (RIP). You can imagine the irony when he emailed us the song featuring The Crocodile in its lyrics on December 18th, two days after The Croc suddenly closed its doors. The weird timing of it makes it even more special. It's a sweet memorial in the context of this catchy song.
We also recently got to hear the new album and, in my opinion, it's his finest release to date. His Robyn Hitchcock-esque wry wit and complex song construction really pop out on Unclever. It is charming alt-folk with a contrary edge part, and for those anglophiles amongst us, perhaps the most compelling part is that it's all smothered in KJA's British accent. You can sample some tracks from Unclever on his MySpace page.
Want even more? KJA has also sent over four songs he especially wrote for (and about) some other friends for us to share with you:
"15 Pound Zucchini"
This song was written for Mike, who runs the People In A Position To Know label based in Olympia, WA. Mike put Keith & Casper and the Cookies up at his place when they were in the area during a 2006 tour. Mike cooked pasta with the biggest zucchini (courgette) any of them had seen.
"Amazon Twilight"
Raynald Cany is the only song recipient to actually give Keith lyrics directly. His poem is full of strange rich surreal imagery.
"Blue Meanies"
Jeff  Kuykendall met his wife in his dorm laundry room at college. She was doing homework while waiting for her laundry to finish, and on one of her folders was scrawled a couple of lines of dialogue spoken by the Blue Meanies in the Beatles movie Yellow Submarine. He told her he'd made a mix tape of all the songs from the movie, in the order they appeared.  She'd done the exact same thing. She had a job hanging event posters up around campus, so he followed her around and accidentally "run into" her. It worked!
"Arty Party"
Keith didn't send over any info about the inspiration for this song, but my guess is that it's for a fellow named Dave in Portland.