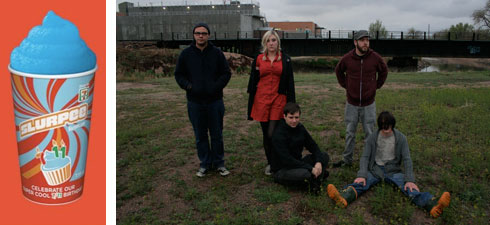 For those of us who enjoy a mix of nostalgic shoegazy fuzz and bittersweet  delicate melodies with their FREE SLURPEE, this week is going to rule!  Denver's very own Kissing Party have made their way to our fine city for not one, but two shows this week and, because Monday is July 11 (numerically translated to 7/11), our convenience store friends at 7-11 gift everyone with a free slurpee!
Sure it's only 7.11 oz and just enough to only give you a minor brain-freeze, but a free frozen treat is a free frozen treat. Try a new flavor or mix two together. Go wild on the slurpee tip, man!
But the radness doesn't stop with the slurps. Get your fill of Primitives meets Pains of Being Pure At Heart with a splash of Belle & Sebastian at the the Funhouse on Monday (7/11) as the Kissing Party shares the bill with Death's Three Daughters and The Chimanimani. 
If you miss them on Monday or want to get a double dose (because who can blame you), they'll be at the Comet on Wednesday 7/13.