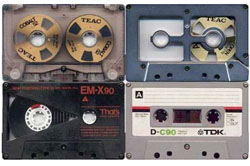 By now everyone who's part of the Happy Happy Birthday To Me Singles Club has received their latest installment of vinyl — one selection of which is the split 7" of two of my favorites: The Smittens covering The Angels' "My Boyfriend's Back" and Tullyraft covering the Pooh Sticks' "On Tape." (If you aren't party of the HHBTM club, I think there might be a couple ltd edition records still available)
Is it merely coicidence that my favorite Philadelphia band, Brown Recluse Sings, has announced their second release, entitled selected hymns (of the evening tapestry) will be an eleven song cassette released on Dead Format.
As the band describes the album is:
home-recorded goodness, executed solo by the "singer" and "songwriter" of our anarcho-syndicalist collective, timothy meskers. some songs will end up on the forthcoming full length debut of BRS (in a much different form of course), some will not.
Such goodness is limited — to only 100! It's only $5.50 and you can order it via their MySpace page. I just ordered my copy… now I just need to figure out where my old walkman is.