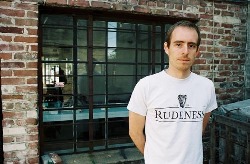 With a long string of tight critically-acclaimed and fan worshipped albums, Ted Leo and the Pharmacists has been thrust into indie rock cult status for their relentless sweaty shows and sharp punk, pop hooks. It makes sense, with a CV like Ted's (he can boast time-served in Citizen's Arrest, Animal Crackers and Chisel), it's no surprise that legions of show-goers extole the virtues of seeing them a TL show.
This time, they visit Seattle with Melbourne's Love of Diagrams. I've been loving their debut release Mosiac (released on Matador). It's angular and rhythmic and stands out from indie's recent offerings.
It's a hot ticket indeed… and an all-ages one at that!