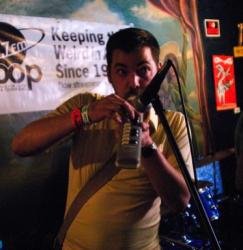 Seattle indie-pop band (and TIG faves) Tullycraft are preparing to take their infectious sugar-sweet jangle-pop on the road and over to the East Coast. As someone who has seen this band at least — oh I don't know, 12 times? 14 times? — I can say with good authority that they put on an incredible live show full of shenanigans and shake your wiggle sticks fun.
I believe our other coast pals like Ashley and Joseph Riippi are gonna be out in full effect for some of these dates…
June 11: Winooski, VT at The Monkey House w/ The Smittens

June 12: Boston at PA's Lounge w/ Pants Yell! & The Smittens

June 13: NYC Popfest at Pianos w/ Pants Yell!, The Besties & From Bubblegum To Sky

June 14: NYC Popfest at the Cake Shop w/ The Cannanes (2 pm, all ages)

June 14: Philadelphia at The Barbary w/ Scary Monster

June 15: Washington, D.C. at Red and Black Bar w/ Sprites & From Bubblegum To Sky 
Go see a show or two (your states are small over there, right? So road trips are easier!), and tell them your imaginary girl friends sent you.