Early this week, igLiz blogged about what she thought her dream birthday present would be: a subscription to the Happy Happy Birthday to Me records "Single of the Month" club. But I got an email this morning for a Liz wish-list item that would knock her imaginary socks off:
Buy David Gedge's guitar on eBay.co.uk!!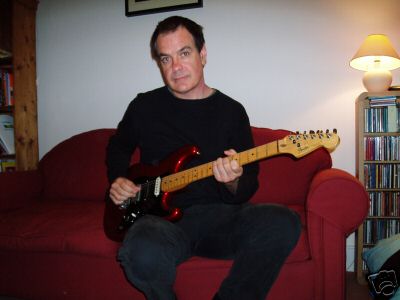 According to the post, the guitar in question is a Fender Stratocaster that the fabulous Senor Gedge has played on his American Wedding Present and Cinerama tours since 1992. He's currently using it to work on the next Wedding Present record.
As of this posting, there have been seven bids and the lucky so-far winner will need to shell out £411.00 smackers for said guitar. But isn't igLiz worth it?
If you don't manage to nab the guitar, don't despair. You can still make igLiz feel like the special imaginary girl she is with this:
Sanctuary Records will be releasing all of The Wedding Present's sessions for the late John Peel tomorrow!!
From the press release:
The six disc set falls neatly into three CDs of studio sessions and three representing live performances. The former includes their third session from May 1987, which previewed songs from the George Best album six months before it's release, and the band's bizarre excursion into the world of Ukrainian folk music, inspired by guitarist Peter Solowka. The live sessions section comprises their performance for John Peel's 50th Birthday Party in August 1989 plus sets from the Leeds Sounds City, Phoenix and Reading Festivals.

The compilation, remastering and artwork has all been carried out under the close supervision of David Gedge and the release comes with extensive sleeve notes by Ken Garner, writer of: "In Session Tonight", the definitive guide to live pop and rock on BBC Radio.
So what are you waiting for? Get your igLiz birthday shopping finished early!!!
{note: igLiz's birthday isn't until December… think you can wait to surprise her till then?? ;)}